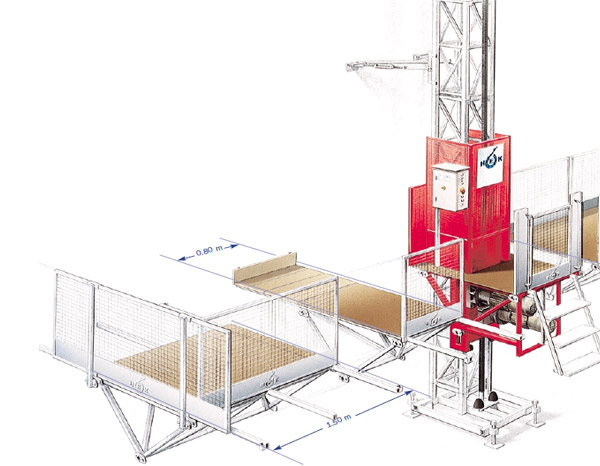 MSM super Mast
A multifunctional mastclimbing workplatform
Solid, reliable and flexible in use for facade finishing and glazing, demolition and renovation, cleaning and repair.

In modern architecture, facades come in all shapes and sizes. Angular, staggered, overhanging or receding. In addition, glazing and coating systems are often employed in very large formats, in such materials as aluminium and natural stone.

Situations of this kind, particularly at great heights, call for a workspace which is safe, clear and stable.

Download PDF Brochure
High lifting capacity. Up to a maximum of 2,300 kg and the 2-mast version up to 4,000 kg. As a result, a great deal of tools and equipment can be raised to the required working height in one lift.
Large working surface. As standard, the platform measures 1.5 m wide, but can be extended to 2.5 m using extendable tubes. The platform length on the single-mast version ranges from 2.7 m to 8.7 m, and on the 2-mast version from 8.2 m to 23.1 m; and even up to a massive 32.2 m when used with a Megadeck.
Can be mounted on a ground frame or on a mobile chassis. HEK's MSM Super requires minimal assembly and dismantling time. Proportionally few anchor points are required resulting in maximum access to the facade.
Complete pallets of glass, panelling or natural stone can be lifted, vibration-free and accurately to the required height, considerably reducing the risk of damage to expensive materials.
Can be precisely positioned at any level for the most ergonomic working height, considerably increasing productivity.
Entirely modular and therefore adaptable to every location. These alterations need only to be carried out on one occasion, leading to major cost savings. The components of the MSM Super are exchangeable with other types of HEK mastclimbing workplatform.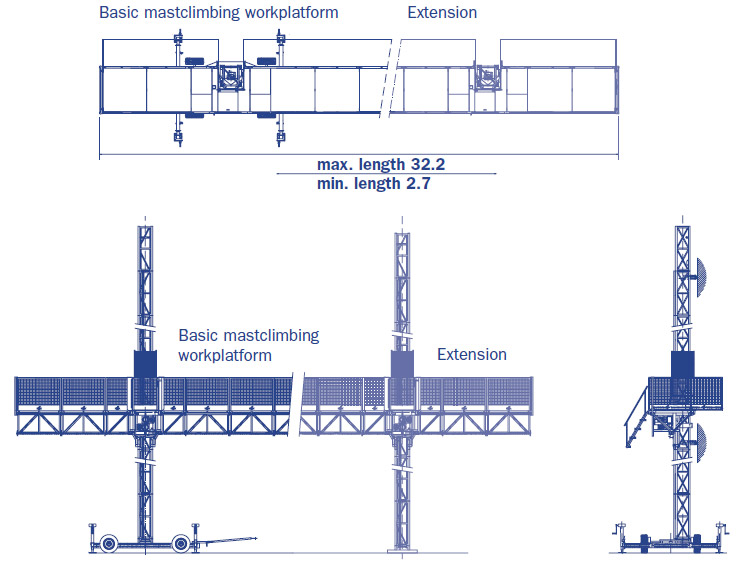 Frequently Asked Questions
What is the principal cost advantage of mast climbing systems?
Mast climbing systems can increase productivity by 30% or more. They are more ergonomic, safer and reduce the amount of equipment needed. Materials and tools are always within easy reach. The long platforms available speed up work on wide facades. Mast climbers have low maintenance costs, are easy to service and built for quick and easy erection and dismantling.
When are mast climbing systems at their most efficient?
Mast climbing work platforms are ideal for a variety of projects including construction, renovation, or demolition where schedules are tight, where there are heavy loads or construction materials and the workplace is above 4.8m.
How high can mast climbing systems be used?
Our HEK MSM Super Mast Climbing system can be operated up to a height of 250m as it was on the Q1 project on the Gold Coast – the world's tallest residential building.
Are mast climbing systems efficient at lower heights?
Mast climbing systems are useful for all types of projects, including low-rise. For example, they can be used for glazing, painting or masonry works even at a height of 6m.
Are mast climbing systems only available in standard models?
Most applications use standard models but Scotia Access Systems Australia can just as easily design a mast climbing system to meet almost any need.
Are mast climbing systems high or low maintenance?
Mast climbers require little maintenance compared to other powered access equipment.
When do mast climbing systems need anchoring?
Some systems can free-stand up to 20m. Others are anchored from between 6m to 8m.
What happens in the event of a power failure?
Mast climbing systems are equipped with a centrifugal brake to provide for controlled descent in the event of a power failure and can be lowered by hand under fully automatic speed regulation from the platform.
Are mast climbing systems mobile?
Mobile, truck mounted models are available and all mast climbing systems can be transported on any normal truck.