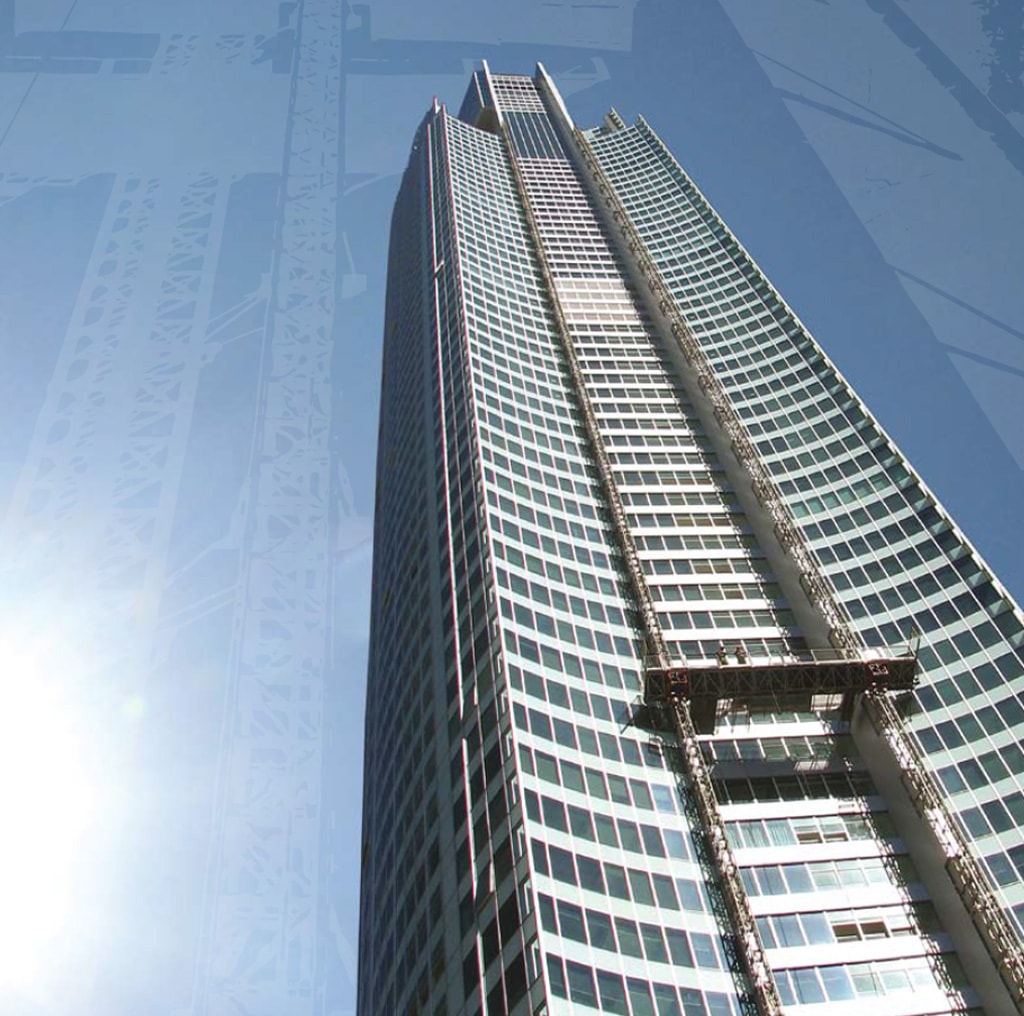 About Us
Scotia Access Systems Australia provide fast, safe and temporary access for vertical transportation of people and materials across a wide range of industrial, construction and renovation projects. We provide the world's best systems, maintenance, training and support.
We specialise in a variety of Mast climbing work platforms, Man & Material Hoists, Swing Stages, conventional scaffolding & A & B Class Hoardings.
We offer a complete range of services; pre-sales, sales, rental, assembly and dismantling, transport, maintenance and technical support.
REDUCE LABOUR
Since the platforms can be raised or lowered by the touch of a button the platform can always be in the most ergonomically efficient position.
REDUCED COSTS
The cost savings are significant - 30 to 40 percent less labour time.
IMPROVE SAFETY
The entire deck moves with the workforce effectively eliminating the constant checking of hundreds of planks and guardrails to make sure they are securely in place.
INCREASE PRODUCTIVITY
Experience and increase of up to three times more productivity than conventional methods.
EMPLOYEE HEALTH
The system creates an ergonomic advantages where materials and tools can be positioned so there is less bending and reaching.
VERSATILITY
Easily adapted for different applications and structural dimensions including sloping facades for versatile applications.
Services
For 24 hours or for several months, Scotia offers distinct advantages for occasional or temporary use. There are no capital costs and no maintenance or management issues.
Our installers are trained to safely and efficiently operate all our equipment in any kind of situation. Installation and dismantling by us can also be the most cost-effective way to create the best work profile in terms of layout, functionality and work progression.
Modern architecture facades come in all shapes and sizes and may also involve unusual operating conditions. We will analyse the problem and provide the most cost-efficient and tailored access system to the project.
Testimonials

We used their mast climbers for cladding, patching, painting, caulking and cleaning of all the facade works at the new 10 storey South Australia Police headquarters. There were initially 2 X 20 metre twin mast platforms which were dismantled and re-located several times during the project at various stages and in different locations. Scotia was extremely helpful in all aspects from design and engineering of the machines to relocating and punctual removal of materials from site.

Their machines were very safe, efficient and effective in getting the works done in a comparatively short period of time. George Barbour and Chris Smith were a very professional and experienced team. They were always punctual and worked well within time frames given the restraints of working on an interstate project.
~ Ryan Somerville, Site Manager

We used Scotia to complete the first major high rise renovation on the Gold Coast. The renovation work to the Allawah apartments in Surfers Paradise was carried out by the use of 1/23m and 2/16m twin Mast Climbers. Works included the repair of concrete spoil, removal and replacement of all windows, render and painting of the building facade.

The use of these machines made working on the outside of the building safe and minimized downtime due to the weather. To save on the cost of cranes the Mast Climbers were also used in the erection and dismantle of 17 stories of scaffold that was erected on the north face of the building. Steve and all his employees made the installation, maintenance and dismantle of the machines exceptionally safe and easy. I highly recommend the use of Scotia Access Systems.
~ Tony Martin, Foreman

We engaged Scotia to supply an access solution for an 8 storey building at 55 Young Street Redfern. We look forward to working together again in the future.
~ Nigel Robilliard, Project Manager

Scotia Access Systems machines enabled safe access to the work front. The feed back I have received from our sub-contractors suggests they prefer the climbers over conventional access systems. Factors such as stability, safety, smoothness of movement, the ability to adjust the platform to any required hight and the fact the platform have GPO points all make for an excellent access system.
~ Noel Bowden, Project Manager