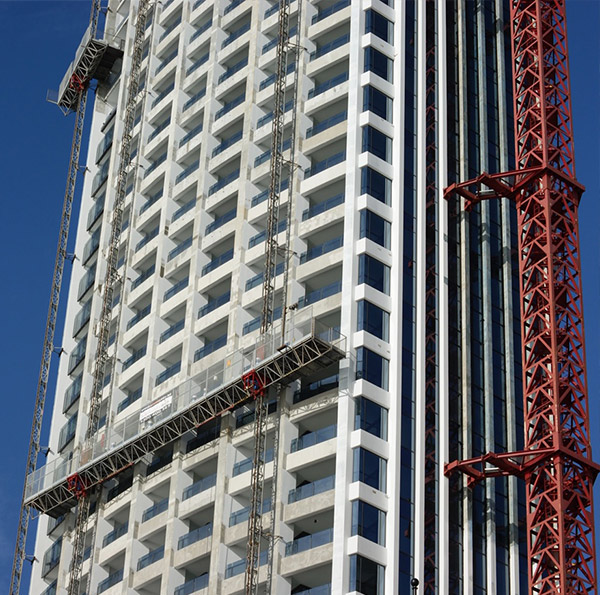 HEK MSM SUPER MAST CLIMBING WORK PLATFORMS
At Scotia Access we supply only the safest and most reliable mast climbing equipment. The HEK MSM Super is a multifunctional mast climbing work platform that can be used with single or double masts. The double mast has a lifting capacity of up to 4000kg while the single mast version has a lifting capacity of up to 2300kg tools and materials can be lifted on the platform to perform the work. The platform has a large working surface; the standard platform is 1.5m wide but can be extended to 2.5m using a telescopic steel bracing. The standard length of the single mast version ranges from 2.7m to 10.5m while the twin mast version ranges from 8m to a massive 32m long using the Megadeck. The masts mount on either a small ground frame, or a mobile chassis, or are bolted to the structure on the ground. The work platform can be shaped to the structural dimensions of the building, while various extensions give added versatility. Two or more work platforms, working independently or in unison can share one set of masts. The HEK MSM Super is a highly flexible work platform system and a cost-effective alternative to conventional scaffolding.
Reduced labour time - As the mast climbing system can come to the ground for restocking for trades such as masonry and plaster, materials like brick and blocks can now be placed where needed by a forklift instead of a crane. Since the platforms can be raised or lowered by the touch of a button the platform can always be in the most ergonomic position.
The time and cost savings are significant - All models offer safety and convenience features which have proven to cut labour costs in excess of 30%. Materials and other necessary equipment can be lifted on platform at the same time as the workers. Long platforms speed up work on wide facades. Construction is solid and mast climbing systems are cheap to maintain and easy to service.
Safety - the entire deck moves with the workforce effectively eliminating the constant checking of hundreds of planks and guardrails to make sure they are securely in place. Work is safer and more ergonomic because labour is always working at the optimal height with material and tools within easy reach.
Production increases - up to three times more than conventional methods.
Healthier employees - the system creates an ergonomic advantages where materials and tools can be positioned so there is less bending and reaching.
Quick and easy assembly and installation - High free-standing operation - unanchored machines can work up to 20m without being fixed to the building. Great heights and large payloads are no problem with some projects reaching over 250m (800 feet+).
Lightweight and easy to transport - The systems can be freestanding up to 30 m indoors and 20 m outdoors and on a Mobile chassis for quick and easy relocation.
Extremely versatile - easily adapted for different applications and structural dimensions including sloping facades. The extension platforms contour to most buildings and precision levelling reduces repetitive strain injuries.
Less damaging - Mast climbers offer less damage to building components compared to traditional multi handling, replace trailing cable and expensive distribution points.
Testimonials

We used their mast climbers for cladding, patching, painting, caulking and cleaning of all the facade works at the new 10 storey South Australia Police headquarters. There were initially 2 X 20 metre twin mast platforms which were dismantled and re-located several times during the project at various stages and in different locations. Scotia was extremely helpful in all aspects from design and engineering of the machines to relocating and punctual removal of materials from site.

Their machines were very safe, efficient and effective in getting the works done in a comparatively short period of time. George Barbour and Chris Smith were a very professional and experienced team. They were always punctual and worked well within time frames given the restraints of working on an interstate project.
~ Ryan Somerville, Site Manager

We used Scotia to complete the first major high rise renovation on the Gold Coast. The renovation work to the Allawah apartments in Surfers Paradise was carried out by the use of 1/23m and 2/16m twin Mast Climbers. Works included the repair of concrete spoil, removal and replacement of all windows, render and painting of the building facade.

The use of these machines made working on the outside of the building safe and minimized downtime due to the weather. To save on the cost of cranes the Mast Climbers were also used in the erection and dismantle of 17 stories of scaffold that was erected on the north face of the building. Steve and all his employees made the installation, maintenance and dismantle of the machines exceptionally safe and easy. I highly recommend the use of Scotia Access Systems.
~ Tony Martin, Foreman

We engaged Scotia to supply an access solution for an 8 storey building at 55 Young Street Redfern. We look forward to working together again in the future.
~ Nigel Robilliard, Project Manager

Scotia Access Systems machines enabled safe access to the work front. The feed back I have received from our sub-contractors suggests they prefer the climbers over conventional access systems. Factors such as stability, safety, smoothness of movement, the ability to adjust the platform to any required hight and the fact the platform have GPO points all make for an excellent access system.
~ Noel Bowden, Project Manager
Frequently Asked Questions
What is the principal cost advantage of mast climbing systems?
Mast climbing systems can increase productivity by 30% or more. They are more ergonomic, safer and reduce the amount of equipment needed. Materials and tools are always within easy reach. The long platforms available speed up work on wide facades. Mast climbers have low maintenance costs, are easy to service and built for quick and easy erection and dismantling.
When are mast climbing systems at their most efficient?
Mast climbing work platforms are ideal for a variety of projects including construction, renovation, or demolition where schedules are tight, where there are heavy loads or construction materials and the workplace is above 4.8m.
How high can mast climbing systems be used?
Our HEK MSM Super Mast Climbing system can be operated up to a height of 250m as it was on the Q1 project on the Gold Coast – the world's tallest residential building.
Are mast climbing systems efficient at lower heights?
Mast climbing systems are useful for all types of projects, including low-rise. For example, they can be used for glazing, painting or masonry works even at a height of 6m.
Are mast climbing systems only available in standard models?
Most applications use standard models but Scotia Access Systems Australia can just as easily design a mast climbing system to meet almost any need.
Are mast climbing systems high or low maintenance?
Mast climbers require little maintenance compared to other powered access equipment.
When do mast climbing systems need anchoring?
Some systems can free-stand up to 20m. Others are anchored from between 6m to 8m.
What happens in the event of a power failure?
Mast climbing systems are equipped with a centrifugal brake to provide for controlled descent in the event of a power failure and can be lowered by hand under fully automatic speed regulation from the platform.
Are mast climbing systems mobile?
Mobile, truck mounted models are available and all mast climbing systems can be transported on any normal truck.